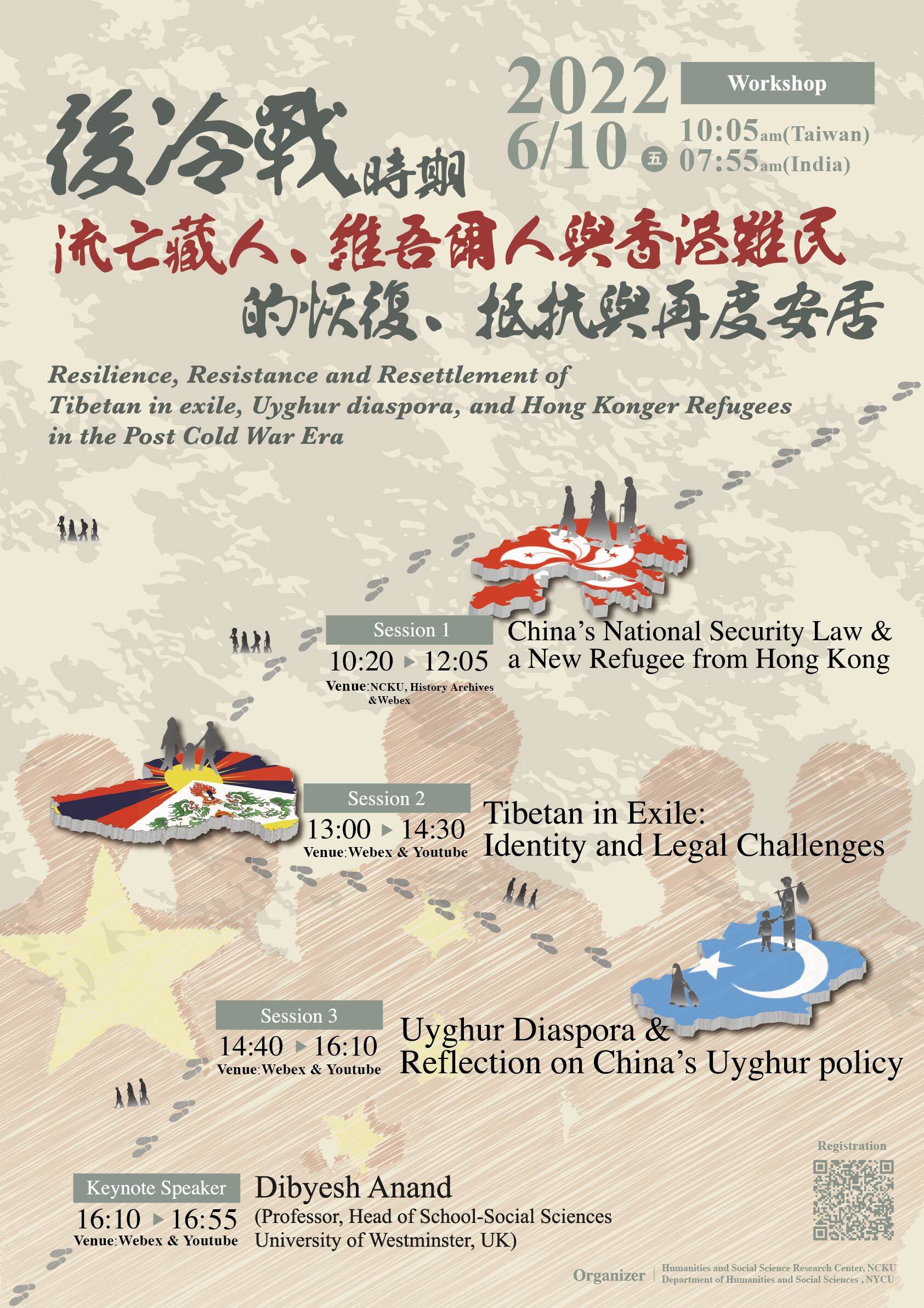 June 10 , 2022
「後冷戰時期流亡藏人、維吾爾人與香港難民的恢復、抵抗與再度安居」國際工作坊
【基本資訊】
時間:2022年6月10日(周五)臺灣時間上午10:05;印度時間:上午7:55
地點:
場次一:國立成功大學歷史文物館(光復校區)&線上(Webex)
場次二、三、專題演講:線上(Webex&Youtube)
主辦單位:國立成功大學人文社會科學中心、國立陽明交通大學人文社會學系
報名連結:前往報名
【General Information】
Date:2022.6.10(Fri) Taiwan:10:05 am;India:7:55 am
Venue:
Session 1:NCKU, History Archives (Kuang-Fu Campus) & online(Webex)
Session 2 & 3 & Keynote Speech:online(Webex&Youtube)
Organizer:
Humanities and Social Science Research Center, National Cheng Kung University
Department of Humanities and Social Sciences , National Yang Ming Chiao Tung University
Registration link:Registration
【工作坊主旨】
近年來,難民與尋求庇護者的相關議題在世界各地的討論愈發熱烈,然而這些話題主要受到歐洲難民潮引導,關於中國對周邊地區政策所引發的難民危機卻缺乏關注。在上述背景下,人文社會科學中心以「後冷戰時期流亡藏人、維吾爾人與香港難民的恢復、抵抗與再度安居」為題舉辦國際工作坊,首度嘗試聚集分布廣泛的國際學術社群,邀請來自印度、土耳其與臺灣的學者,共同探討西藏、香港與維吾爾難民面臨的問題與挑戰。

本次工作坊旨在提供一個討論平台,幫助我們完整理解和討論這三個受中國共產黨威迫的族群,並進一步凸顯難民身份的形成原因與境況,以及三個族群分別遭遇的獨特情形與應對難民問題的取徑,如何影響他們在抗中民主運動中的韌性。我們期望透過對三種處境的研討,探索理解難民此一複雜現象的新方向與新視角。
【objective】
The United Nations listed a few key global crises that are of serious concern. Among the list, the refugee crisis and human rights violations ranked top issues. However, discourses on these two issues are primarily driven by the refugee crisis in Europe. There is often a lack of attention being diverted towards the refugee crisis resulting from China and its policy towards peripheral regions. The Research Center for Humanities and Social Science at the National Cheng Kung University is taking the opportunity to hold an International Workshop titled "Resilience, Resistance and Resettlement of Tibetan in exile, Uyghur diaspora, and Hong Konger refugees in the Post Cold War Era". This workshop is the first attempt to bring together a broad spectrum of scholars, drawing from the academic communities from India, Turkey, and Taiwan to discuss various issues and challenges of Tibetan, Hongkongers, and Uyghurs refugees.

The central aim of the workshop is to provide a forum to bring a comprehensive understanding and discussion about these three communities that shared similar yet different threats and challenges because of China's repressive rule. The workshop will further highlight the reasons and conditions of being in refugee and how each of these groups, given their unique circumstances and approach towards the refugee problem determine their resilience in the democratic movement against China. The workshop hopes to explore new directions and perspectives in understanding the complex phenomena of refugees through these three cases.
【議程/agenda】
Time

Event

9:35-10:05

Registration

10:05-10:15

Opening Ceremony
Yuh-Neu Chen
(Vice President and Director, Research Center for Humanities and Social Sciences, NCKU)

10:15-10:20

Break

10:20-12:05

Session 1
China's National Security Law and a New Refugee from Hong Kong

Moderator

Presenter

Title

Dolma Tsering
(Postdoctoral Research Fellow, Research Center for Humanities and Social Sciences,National Cheng Kung University)
Candia Tong
(Vice-Secretary, 如水Flow Hong Kong)

Refugee relocation, Asylum policy advocacy:Case study of Hong Konger in Taiwan

Simon Xu Hui, Shen
(Associate Professor ,National Sun Yatsen University)

Destroying the Autonomy:Hong Kong 2020 versus Tibet 1959

English Choi
(Executive member of Hongkong Outlanders)

Complexity of "HongKongers": Balance between national security and Hong Kong related Policy

Teresa Chi Lee
(Member of Council, Taiwan Hong Kong Association)

The Hong Kong diaspora presense in Taiwan

12:05-13:00

Break

13:00-14:30

Session 2
Tibetan in Exile: Identity and Legal Challenges

Moderator

Presenter

Title

Mei-Lin Pan
(Professor,Department of Humanities and Social Sciences,Graduate Program of Ethnicity and Culture, NYCU)
Dickyi Choedon
(Ph.D Candidate ,Gandhigram Rural Institute)

Legal Mobilization of Tibetan refugees in India

Dawa Loktsang
(Ph.D Candidate,University of Colorado)

Who is a Pure Tibetan? Identity, Intergenerational History, and Trauma in Exile

Sudeep Basu
(Assistant Professor ,Central University of Gujurat)

Making of a Mediatized Tibetan refugee community in India

14:30-14:40

Break

14:40-16:10

Session 3
Uyghur Diaspora and Reflection on China's Uyghur policy

Moderator

Presenter

Title

Namrata Hasija
(Research Fellow, Centre for China Analysis and Strategy)

Abdürreşit Celil Karluk (Associate Professor ,Ankara haci Bayram Vwli University)

Problems of Uyghur Refugees in Turkish States---Case of Turkey

Chien-Yu, Shih
(Associate Research Fellow,Institute for National Defense and Security Research)

International Sanctions on China's Human Rights Violations in Xinjiang and Response from China

Saidia Rahman
(Ph.D Candidate,National Chung Hsing University)

The Chinese Communist Party's Employment of Hard Power to Assertively Assimilate the Uyghurs in East Turkestan:The Case of the Uyghur Diaspora in Turkey

Erkin Emet
(Associate Professor, Ankara University: Turkey)

16:10-16:35

Keynote Speech

Moderator

Presenter

Title

Dolma Tsering
(Postdoctoral Research Fellow, Research Center for Humanities and Social Sciences,National Cheng Kung University)
Dibyesh Anand
(Professor, Head of School-Social Sciences University of Westminster, UK)

"Decolonising China"

16:35-16:55

Q&A

16:55

End
※There will be 20 minutes for each presentation, and 20 minutes for discussion.